Get a Straighter, More Even Smile
Misaligned or crooked teeth can affect the appearance of your smile and cause damage to your other teeth or chronic jaw pain. Orthodontic treatment repositions your teeth to give you a straighter, healthier smile.
Invisalign® Clear Aligners
Invisalign® clear aligners work like braces, but instead of wires and brackets, they use clear plastic aligners to reposition your teeth. The aligners are made of clear material that is almost invisible when you wear them, and you can remove the aligners when you eat or brush your teeth. You will need to see your dentist regularly to check your progress and get a new set of aligners. Unlike metal braces, treatment generally is quicker with Invisalign® Braces with most cases taking between 1-2 years or less depending on the severity of each case.
Bear Town Dental partners with Gladwell Orthodontics, the #1 Invisalign® Provider in North Carolina to give our patients "Orthodontic Level" care without having to leave your our office.
Image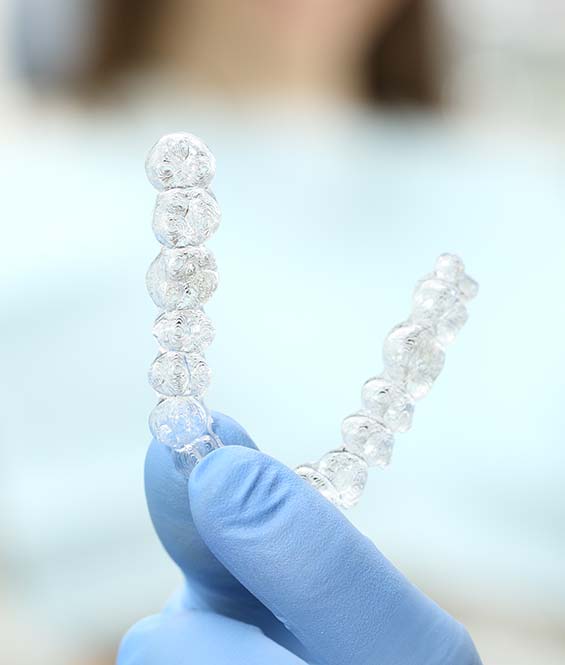 Frequently Asked Question
Will I need to wear a retainer?
Your dentist may recommend that you wear a retainer after your orthodontic treatment to hold your teeth in place as they adjust to their new positions.
What happens if I break or lose an aligner?
Try in your next aligner. If it fits, continue with your series of aligners. If it does not fit, then call our office for instructions.
Do Invisalign® Braces hurt?
Your teeth might hurt for a few days after changing out your aligner each week. Ask your dentist if pain medication can help.
Can I do Clear Aligners myself?
It is wise to put your faith and trust in an Invisalign® Certified Dentist that has completed thousands of Invisalign® procedures. Over the years we have heard about individuals that have attempted to put on their own braces or create their own Clear Aligners or "mouthpieces" which have ended up in disasters. Please do not try this as it will only cost you more in the long run.